Setup Email Account in Windows 8
This guide will help you create a new email account in Windows 8 Mail app using the proper server settings for Zimbra.
Step 1. On the Start screen, tap or click Mail
Swipe in from the right edge of the screen, and then tap Settings

If you're using a mouse, point to the lower-right corner of the screen, move the mouse pointer up, and then click Settings

Tap or click Accounts, tap or click Add an account, and then tap or click Other Account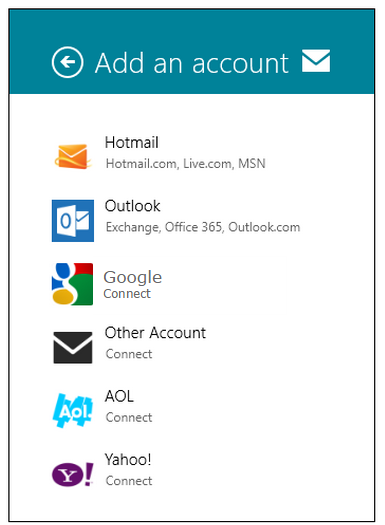 Step 2. Select IMAP for the kind of account
Enter your full

Email address

Enter your Password

Tap or click on

Show more details




​Step 3. Enter username and server information as follows:
Ensure your full email address (ex: myemail@grm.net) is in the Username field

Incoming (IMAP) email server

field listed as:

mail.grm.net

Incoming Port listed as: 993

Incoming server requires SSL box is checked

Outgoing (SMTP) email server field listed as: smtp.grm.net

Outgoing Port listed as: 465 or 587

Outgoing server requires SSL box is checked

Outgoing server requires authentication box is checked

Use the same username and password to send and receive email box is checked

Tap or click Connect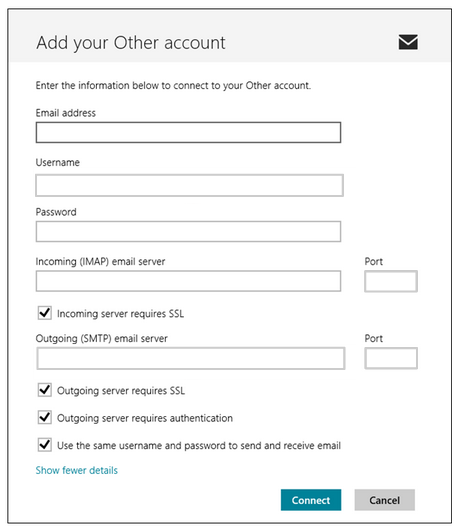 Congratulations, your Windows 8 email is now set up!