Setup Email Account in Thunderbird
This guide will help you set up a new Thunderbird email account with the proper server settings.
Step 1. Setting up Thunderbird for the first time
Open Thunderbird and make sure you are on the HOME Tab

Click on the

Email

icon under

"Choose What to Set Up"

​If you see the below image, click here to continue to the next step, otherwise continue scrolling




If your Thunderbird does not have options to setup a email on the home page, hit the

pancake icon (3 bars)

in the top right


Next, select Account Settings from the dropdown list


Now hit the Account Actions dropdown on the lefthand side


Select Add Mail Account... from the list

Step 2. Set up your existing @wccta.net email address
A window will open which will allow you to enter your Existing Email information

Webster-Calhoun Cooperative Telephone Association has already provided you with an email address, so you will be able to complete

Your full name, Email address, and Password.

​You may also choose to have Thunderbird save your email password by selecting the checkbox next to

Remember password

.

​Click Configure Manually

(this option will appear once a domain is in the email address field)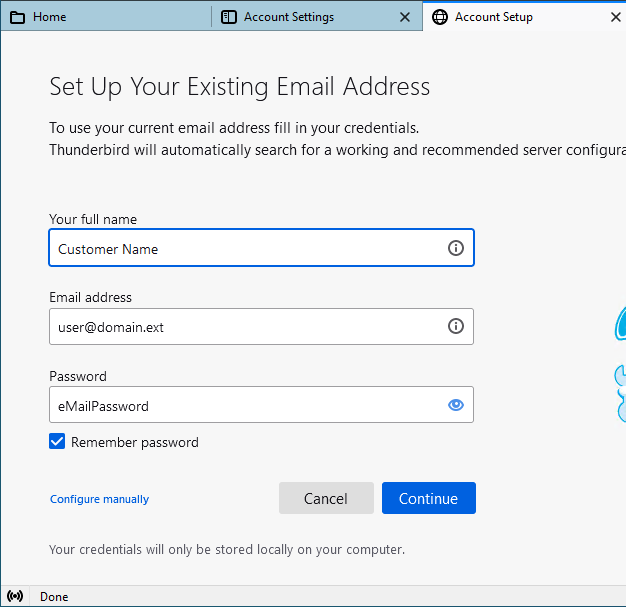 Step 3. Update your Incoming and Outgoing Server Settings
Make sure that the Incoming Protocol drop-down is set to IMAP

Edit the Incoming Server Hostname is set to: imap.wccta.net

Ensure that the Incoming Port is displaying 993

Make sure that the Incoming Connection security drop-down is set to SSL/TSL

Leave the Incoming Authentication method on Autodetect

Edit the Outgoing Server Name to: smtp.wccta.net

Make sure that the Outgoing Port field is set to 465

Make sure that the Outgoing Connection security drop-down is set to SSL/TSL

Leave the Outgoing Authentication method on Autodetect

Your full email address (ex: myemail@wccta.net) should have autofilled into both Username fields (Incoming and Outgoing)




​After all settings are filled in, hit Re-test


If there is any error message, double check the settings you entered
Once all settings were setup properly, the test will be successful. Then, you will now be able to click Done

Congratulations, your Thunderbird email is now set up!